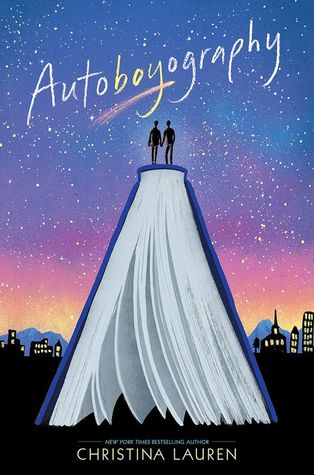 Genre: Young Adult Fiction, Contemporary
Subgenre: LGBT, Romance
Publisher: Simon & Schuster Books for Young Readers
Length: 407 pages
Date Published: September, 2017
Date(s) Read: May 9, 2019 – May 11, 2019
Goodreads Synopsis:
Three years ago, Tanner Scott's family relocated from California to Utah, a move that nudged the bisexual teen temporarily back into the closet. Now, with one semester of high school to go, and no obstacles between him and out-of-state college freedom, Tanner plans to coast through his remaining classes and clear out of Utah.
But when his best friend Autumn dares him to take Provo High's prestigious Seminar—where honor roll students diligently toil to draft a book in a semester—Tanner can't resist going against his better judgment and having a go, if only to prove to Autumn how silly the whole thing is. Writing a book in four months sounds simple. Four months is an eternity.
It turns out, Tanner is only partly right: four months is a long time. After all, it takes only one second for him to notice Sebastian Brother, the Mormon prodigy who sold his own Seminar novel the year before and who now mentors the class. And it takes less than a month for Tanner to fall completely in love with him.
---
My Rating: ★★☆☆☆
My Review:
This was fun and entertaining, but other than that it wasn't very good.
One of my biggest pet peeves was the writing style. It felt very amateur to me, even though I was listening to it instead of reading it physically (which generally helps me to not notice writing style as much.) For example, Instead of saying what a character did or felt the authors were constantly writing things like "seemed to" or "practically." Every time I noticed the narrator saying things phrases like the side of my brain that edits my own writing just couldn't help but notice it and that took me out of the story because it felt overwritten. I don't know what someone's hands 'practically shaking' means, are their hands shaking or aren't they?
Another thing I didn't like was the insta-love aspect of Tanner and Sebastian's relationship. I feel like it's one thing to look at your classroom TA the first day and be like "Damn they fine" and another to be like "I would jump off a cliff right this second if they asked." Unfortunately, Tanner's thoughts are closer to the latter but it sure does set the tone for how much unnecessary drama ensues throughout the next 400 pages.
The side characters don't really matter at all. I'm not sure what I was supposed to feel for Tan's BFF Autumn, but whatever it is, I didn't. Speaking of Autumn, the whole thing that happens with them later in the book is just ??? I have no other reaction to it besides "what the fuck" and it never really gets resolved? It gets pseudo-resolved, and then we just move on and it never gets touched on again. I still don't know what the fuck to make of it.
I thoroughly enjoyed the exploration of the intersection of religion and identity, and what happens when those two things maybe don't fit together as nicely as we'd like. I'm a sucker for that shit, and it makes me wish that this book had been written entirely from Sebastian's perspective. It would have even been nice to have alternating perspectives throughout the book, but the sections from Sebastian's point of view at the end of the book felt a little like an afterthought, like the authors decided "Oh, maybe we should give some of Sebastian's thoughts?" After…. not doing that for the first 85% of the book.
What I didn't really enjoy was that the resolution to the religion problem was a fade-to-black scene of Sebastian having a conversation with his parents— which I think the reader should have been privy to, and because of that I suspect maybe the authors just didn't know how to write it— and then a "Happily-Ever-After"-esque ending for Tanner and Sebastian. I almost wish the epilogue had been cut, because the ending where Tanner went to college and Sebastian finally decided that Mormonism wasn't right for him was the perfect place to end it. I cared more about whether Sebastian's family would eventually come around and accept him for who he was than I did about him showing up at UCLA to make out with Tanner.
Other than the insta-love and the less-than-impressive ending, I did fully enjoy the rest of the journey of Tanner and Sebastian's journey. I liked Tanner as a character, even though he sucks at writing fiction (but still gets an A for some reason,) I really enjoyed Sebastian, even though I wish we'd had his point-of-view more consistently. There wasn't much room for me to care about the other characters one way or another (there are a bunch of characters that have names, but literally don't do anything that matters) but, with the exception of Autumn, I was fine with that.
The book was just entertaining, and I enjoyed reading it a lot despite that it maybe had more flaws than not. That said, because of it's flaws, I can't really justify giving it a higher rating than 2-stars.