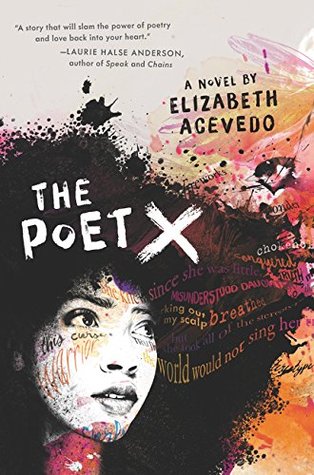 Genre: Young Adult Fiction, Poetry
Subgenre: Contemporary
Publisher: HarperTeen
Length: 357 pages
Date(s) Read: April 26, 2019 – May 2, 2019
Date Published: March 6, 2018
Goodreads Synopsis:
A young girl in Harlem discovers slam poetry as a way to understand her mother's religion and her own relationship to the world. Debut novel of renowned slam poet Elizabeth Acevedo.
Xiomara Batista feels unheard and unable to hide in her Harlem neighborhood. Ever since her body grew into curves, she has learned to let her fists and her fierceness do the talking.
But Xiomara has plenty she wants to say, and she pours all her frustration and passion onto the pages of a leather notebook, reciting the words to herself like prayers—especially after she catches feelings for a boy in her bio class named Aman, who her family can never know about. With Mami's determination to force her daughter to obey the laws of the church, Xiomara understands that her thoughts are best kept to herself.
So when she is invited to join her school's slam poetry club, she doesn't know how she could ever attend without her mami finding out, much less speak her words out loud. But still, she can't stop thinking about performing her poems.
Because in the face of a world that may not want to hear her, Xiomara refuses to be silent.
---
My Rating: ★★★☆☆ + ½
First of all, I highly recommend listening to this on audio. The narrator did a wonderful job with the narration, and for that I'm giving this book the extra half star.
Unfortunately, I didn't love this as much as I hoped I would. I think I hyped it up a little too much for myself, especially as I listened to it immediately after listening to Jason Reynold's Long Way Down which I gave a full 5-stars. I was so ready to read more poignant and hard-hitting poetry and then… I was left somewhat unimpressed with this.
Overall, though, it's still a worthwhile read.
I was really able to relate to Xiomara's struggles with faith, as I was raised Catholic myself and stopped practicing for many of the reasons that Elizabeth Acevedo dives into through Xiomara's eyes in this story. Like Xiomara, I have a very devout Catholic parent, but luckily I was always encouraged to ask questions and while I was required to attend church until I was 18, I was never forced point-blank to pretend to believe things I didn't. I regularly brought up and still bring up my struggles with how the Church sees and views women's 'gifts', how it treats female sexuality as a taboo, etc., etc. and I don't think my family loves me any less for it. But I know that's not the typical response. I have a friend who grew up going to the same Catholic schools that I went to, and her experience when she questioned religion was largely different from mine.
It's not a topic I see explored in Young Adult fiction all too often, but it is one that I really enjoyed hearing about.
Outside of that, I didn't really care much for Xiomara's relationship with Aman. Not that it wasn't well-done, I just found it such a stark contrast in tone from the dealings with Xiomara's mother that it was hard to want to care about. I've been a teenage girl, frankly I find thinking about my dealings with teenage boys either downright embarrassing or so unnecessarily drama-filled that I'm glad it's not something I ever have to go through again. Here, though, it was just portrayed as an "Oh, by the way, there's a boy" and it is, in some ways, tangentially related to her struggles with her relationship with her mother and with religion.
I don't think we really got enough of any of the side characters to really care about what happened to any of them, which may be a limitation of a novel written in the style of SLAM poetry. I don't really feel like I know Xavier or Aman or Xiomara's best friend— whose name I actually forget, I know so little about her— by the end of the story.
It's like the story tried to have the same general structure of a novel, even though it was written in verse and should have had a different, probably more simple, structure to make up for that fact. It's like it couldn't decide if it wanted to be poetry or prose at times.
For the narration and the exploration of a young woman's struggle to accept Catholicism, this book is well worth a read (or listen, which I highly suggest.)