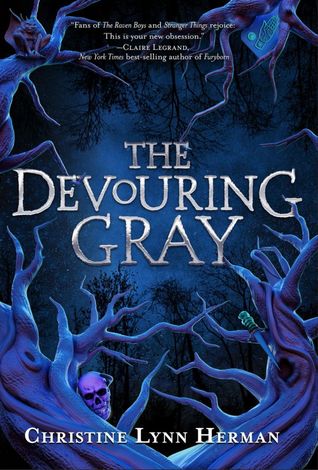 Genre: Young Adult Fiction, Fantasy
Publisher: Disney-Hyperion
Length: 368 pages
Date(s) Read: April 27-28, 2019
Date Published: April 2, 2019
My rating: ⭑⭑⭒⭒⭒
Goodreads Synopsis:
Branches and stones, daggers and bones,
They locked the Beast away.
After the death of her sister, seventeen-year-old Violet Saunders finds herself dragged to Four Paths, New York. Violet may be a newcomer, but she soon learns her mother isn't: They belong to one of the revered founding families of the town, where stone bells hang above every doorway and danger lurks in the depths of the woods.
Justin Hawthorne's bloodline has protected Four Paths for generations from the Gray—a lifeless dimension that imprisons a brutal monster. After Justin fails to inherit his family's powers, his mother is determined to keep this humiliation a secret. But Justin can't let go of the future he was promised and the town he swore to protect.
Ever since Harper Carlisle lost her hand to an accident that left her stranded in the Gray for days, she has vowed revenge on the person who abandoned her: Justin Hawthorne. There are ripples of dissent in Four Paths, and Harper seizes an opportunity to take down the Hawthornes and change her destiny-to what extent, even she doesn't yet know.
The Gray is growing stronger every day, and its victims are piling up. When Violet accidentally unleashes the monster, all three must band together with the other Founders to unearth the dark truths behind their families' abilities—before the Gray devours them all.
---
My Review:
Underwhelming.
If I had to review this book in a single word, that's the one I'd choose.
Frankly, I wasn't even going to give this book a chance when I'd first heard of it. That it was being compared to the likes of Stranger Things and The Raven Cycle had me intrigued, but I wasn't quite sure if it could live up to those comparisons. Then I saw some Booktubers I like deciding to give this a shot, and I thought, "Why not? Maybe it'll surprise me. Maybe it'll live up to its hype."It did not live up to its hype. It did surprise me, though, with just how much I didn't like it.
Let's pause for a sec so I can get something out of the way: I always take comparisons with a grain of salt. I go into everything I read, regardless of what it's been compared with, expecting something new and different. If I wanted another Raven Cycle I would have re-read those books. If I wanted Stranger Things I would have turned on Netflix. Okay? I wasn't expecting this book to be those things, but I did expect it to illicit similar feelings from me. That's it.
Also, I can definitely see why the comparisons to ST and TRC have been made with this book, but that's not necessarily a good thing. The Gray felt like a clearance rack Upside Down from Stranger Things, and the writing style doesn't hold a candle to Maggie Stiefvater's in The Raven Cycle.
The first 30% of this book was actually a page-turner for me. It wasn't mind-blowing, but I was entertained. There were some flaws in the writing style, but I figured that was the fault of trying to fit in the backstory before the rest of the story picked up and then… The story didn't pick up. At about the halfway mark I found myself turning the pages not because I was still entertained or because I still cared but because I just wanted to be done with it.
I have a lot of grievances with this book. First, the writing style. Telling not showing. Almost nothing was shown to the reader. We're constantly told how the characters feel about things, we're never actually shown anything. Everything is spelled out for the reader, and yet there's nothing on the pages to make the reader believe anything they're being told. It was really difficult for me to find this writing style enjoyable, especially after the 30% mark.
We're also constantly told about the town's past and the town's secrets. Some good writing advice I heard once was that if the backstory is more interesting than the story you're writing, you're writing the wrong story. Christine Lynn Herman was writing the wrong story. This could have been about the original founders of the town and their interactions with the Beast. This could have been about Stephen and Augusta and Juniper and Daria. Instead it was about characters and a plot that felt like nothing more than pieces moving on a chessboard.
There's a lack of nuance, too. The non-founding members of the town don't matter at all to the story, they're just victims to the monster without their own stories at all. If you're not a founder in this town, good fucking luck because if you die, no one cares. The author tried to make it seem like the town was fed up with being treated that way, but since we didn't get a single perspective of a regular citizen of Four Paths, it lacked any substance or nuance. Even the group that wanted to overthrow the Hawthornes was essentially lead by another founding family.
I think the author thought giving all the main characters some backstory involving grief would make them interesting but, frankly, I didn't give a single fuck about Violet's dead sister or father, or about Justin's absent father and issues with his ritual, or Isaac's missing family, or Harper's issues, whatever the fuck those were. None of that shit made them interesting, because even though we're constantly told that Violet cares about her dead sister or that she wishes she were in contact with her father's family, we're never actually shown either of those things are true. Similarly, we're told Isaac is grieving over his part-dead part-absent family, but we're not shown it until the epilogue when we get his POV for 0.2 seconds.
Isaac was interesting and given how flat the other main characters were it was pleasantly surprising whenever he showed up. I kept hoping we'd get his POV, but we didn't until the epilogue, and that was a massive disappointment. I would have liked this book so much better was the writing throughout the book as good as it was in the epilogue. The fact his character actually seems to have some depth and nuance, and that it looks like the next book might revolve more around him is a plus for me and I am curious to see what happens to him.
As for the others… Harper: boring. Justin: boring. Violet: boring. I don't care about anything going on with them throughout most of the book. How they interact with the Gray is interesting plot-wise, but I didn't necessarily care about the characters themselves. Any one of them could have died and I wouldn't have batted an eyelid.
The biggest issue with this book: I wanted to know more about the Gray. I wanted to know more about the Beast and the Founders. I wanted to know more about Juniper and Augusta's history. I wanted to get more glimpses into Daria's inner-workings and how she ended up the way she is when we meet her. But the book spends more time on stuff that I just didn't care about. For example, I didn't want anything to do with the history between Harper and Justin— because they were both boring and I didn't care about them— and so much of the book was spent attempting to explore that.
Isaac's feelings were the only part of any of the teen drama, and probably the entire book up until the epilogue, that were shown and not told, and I think the author only managed that one because she was attempting to be sneaky about it… but it just resulted in my feeling more chemistry between him and the person he had feelings for than either of them with the characters I assume they're both getting paired off with in the next book. Which is kind of annoying for me as a reader.
Overall, this book was pretty much just a whole bunch of wasted potential. I feel bad saying that, but it's my honest opinion. If the author had taken the time to develop the characters on the page, a lot of these issues wouldn't have existed. The writing itself needs a lot of improvement, too, but as this is a debut that means the room for growth is definitely there and while this book disappointed me I'm really rooting for the author to grow and develop her skills and I'm hoping that we see that growth with book two.