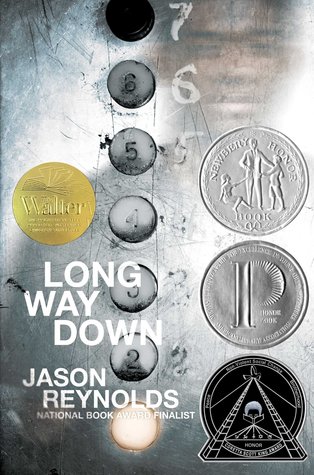 Genre: Young Adult Fiction, Contemporary, Poetry
Publisher: Atheneum/Caitlyn Dlouhy Books
Length: 306 pages
Date(s) Read: April 24, 2019
Date Published: October 2017
My rating: ⭑⭑⭑⭑⭑
Goodreads Synopsis:
1 hour, 43 minutes
An ode to Put the Damn Guns Down, this is New York Times bestseller Jason Reynolds's fiercely stunning novel that takes place in sixty potent seconds—the time it takes a kid to decide whether or not he's going to murder the guy who killed his brother.
A cannon. A strap.
A piece. A biscuit.
A burner. A heater.
A chopper. A gat.
A hammer
A tool
for RULE
Or, you can call it a gun. That's what fifteen-year-old Will has shoved in the back waistband of his jeans. See, his brother Shawn was just murdered. And Will knows the rules. No crying. No snitching. Revenge. That's where Will's now heading, with that gun shoved in the back waistband of his jeans, the gun that was his brother's gun. He gets on the elevator, seventh floor, stoked. He knows who he's after. Or does he? As the elevator stops on the sixth floor, on comes Buck. Buck, Will finds out, is who gave Shawn the gun before Will took the gun. Buck tells Will to check that the gun is even loaded. And that's when Will sees that one bullet is missing. And the only one who could have fired Shawn's gun was Shawn. Huh. Will didn't know that Shawn had ever actually USED his gun. Bigger huh. BUCK IS DEAD. But Buck's in the elevator? Just as Will's trying to think this through, the door to the next floor opens. A teenage girl gets on, waves away the smoke from Dead Buck's cigarette. Will doesn't know her, but she knew him. Knew. When they were eight. And stray bullets had cut through the playground, and Will had tried to cover her, but she was hit anyway, and so what she wants to know, on that fifth floor elevator stop, is, what if Will, Will with the gun shoved in the back waistband of his jeans, MISSES.
And so it goes, the whole long way down, as the elevator stops on each floor, and at each stop someone connected to his brother gets on to give Will a piece to a bigger story than the one he thinks he knows. A story that might never know an END…if WILL gets off that elevator.
Told in short, fierce staccato narrative verse, Long Way Down is a fast and furious, dazzlingly brilliant look at teenage gun violence, as could only be told by Jason Reynolds.
---
My Review:
Holy crap! It finally happened! I rated a book 5-stars. And it only took a whole 4 months into 2019 to find it. Full disclosure, I listened to the audio for this book and I wouldn't have it any other way.
I love poetry. Sometimes I forget that because in general I have an adverse reaction to the modern Instagram poetry of today. If what they're writing is basically just something I could tweet, and they just break the line at an awkward point, I just… don't see the point? It feels like a waste of my time to read. Now, I'm not trying to insult the fans of Rupi Kaur or r.H. Sin out there, but to me that's just not poetry. (Side note: I do think modernizing the way that poetry is consumed, and making it a more accessible and less academic elitist form of art is really important, so kudos to the Instagram poets for that. )
For me, watching performance poetry on YouTube during study breaks before big physics or chemistry exams was how I rekindled my love of poetry in college. I don't think I'd make a good SLAM Poet myself, but there's just something about hearing good SLAM Poetry that gives me goosebumps and brings out some kind of unexplainable emotions in me.
Long Way Down did that.
I cried more than once listening to this less than 2-hour audiobook (which probably isn't something I should be advertising, given I listened driving the car on my way to work). If a work of fiction or art can make me feel something that strong, then I don't really care how many other flaws it has, to me that makes it a 5-star book. I'm also not as well equipped to critique poetry, as I myself don't write or perform it, so I haven't bothered to learn what makes things good or bad… I just have my own feelings and experience in consuming it to go off. So maybe take it with a grain of salt when I say that I can't find it in myself to give any genuine criticisms of this book; I can't think of anything in this book that could have been done better.
This book gives a lot of insight into street rules, gang violence, the never-ending cycle of revenge, etc. etc. etc. As someone who grew up in a reasonably safe, middle-class, mostly white neighborhood, this book gave me a whole new understanding of the world outside of that comfort zone. It was a world I thought I was already able to empathize with based off an academic understanding of systemic issues in the United States, but there's something about stories that, for me, can bring a whole new, much deeper level to that empathy, and that's what makes diverse books like this one so important. The choice to write this story in verse made also made it that much more powerful. This is a story I predict will stick with me for the next 10 years, at least.
Jason Reynolds does a fabulous job narrating his book, and I may have even found a new favorite author. I'm definitely planning on reading more of his stuff after this.
There's not really much else to say about this book except that if you haven't given it a chance yet… please go pick it up.