As part of my May TBR, I will be participating in the Asian Readathon hosted by Cindy (readwithcindy / announcement video here). There are 4 challenges that can be combined however the participants want, and one group read. You can hear all about the challenges (and the twist challenge) in her announcement video or the google doc she has linked in the description of her video.
My picks for the readathon are:
Any book by an Asian author: The Astonishing Color of After by Emily X.R. Pan (Taiwanese)
Genre: YA Fiction, Magical Realism
Length: 462 Pages
Synopsis: "Leigh Chen Sanders is absolutely certain about one thing: When her mother died by suicide, she turned into a bird.
Leigh, who is half Asian and half white, travels to Taiwan to meet her maternal grandparents for the first time. There, she is determined to find her mother, the bird. In her search, she winds up chasing after ghosts, uncovering family secrets, and forging a new relationship with her grandparents. And as she grieves, she must try to reconcile the fact that on the same day she kissed her best friend and longtime secret crush, Axel, her mother was taking her own life.
Alternating between real and magic, past and present, friendship and romance, hope and despair, The Astonishing Color of After is a novel about finding oneself through family history, art, grief, and love."
A book translated from its original language: Hard-Boiled Wonderland and the End of the World by Haruki Murakami (Japanese)

Genre: Fiction, Magical Realism
Length: 400 pages
Synopsis: "In this hyperkinetic and relentlessly inventive novel, Japan's most popular (and controversial) fiction writer hurtles into the consciousness of the West. Hard-Boiled Wonderland and the End of the World draws readers into a narrative particle accelerator in which a split-brained data processor, a deranged scientist, his shockingly undemure granddaughter, Lauren Bacall, Bob Dylan, and various thugs, librarians, and subterranean monsters collide to dazzling effect. What emerges is simultaneously cooler than zero and unaffectedly affecting, a hilariously funny and deeply serious meditation on the nature and uses of the mind."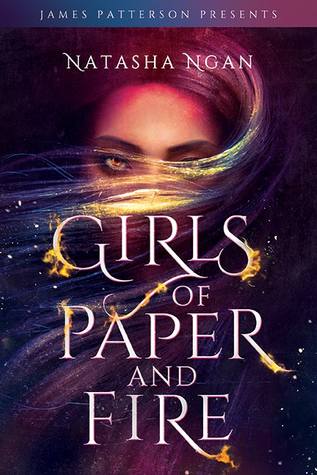 A book with an intersectional Asian identity: Girls of Paper and Fire by Natasha Ngan (Chinese-Malaysian)
Genre: YA Fiction, Fantasy
Length: 400 pages
Synopsis: "Each year, eight beautiful girls are chosen as Paper Girls to serve the king. It's the highest honor they could hope for…and the most cruel.

But this year, there's a ninth girl. And instead of paper, she's made of fire.
In this lush fantasy, Lei is a member of the Paper caste, the lowest and most oppressed class in Ikhara. She lives in a remote village with her father, where the decade-old trauma of watching her mother snatched by royal guards still haunts her. Now, the guards are back, and this time it's Lei they're after–the girl whose golden eyes have piqued the king's interest.
Over weeks of training in the opulent but stifling palace, Lei and eight other girls learn the skills and charm that befit being a king's consort. But Lei isn't content to watch her fate consume her. Instead, she does the unthinkable–she falls in love. Her forbidden romance becomes enmeshed with an explosive plot that threatens the very foundation of Ikhara, and Lei, still the wide-eyed country girl at heart, must decide just how far she's willing to go for justice and revenge.
TW: violence and sexual abuse."
A graphic novel featuring or by Asians: Killing Stalking, Season 1 by Koogi (Korean)
Genre: Manhwa (Webcomic), Horror
Length: 19 Chapters
Synopsis: "Yoon Bum, a scrawny, quiet boy, has a crush on one of the most popular and handsome guys in school, Sangwoo. One day, with Yoon Bum's obsession toward Sangwoo reaching its peak, Yoon Bum decides to enter Sangwoo's home. But what he sees inside is not the Sangwoo he had dreamed of."
Group read: A Thousand Beginnings and Endings by Ellen Oh + Various
Genre: YA Fiction, Fantasy, Short Stories
Length: 336 Pages
Synopsis: "Star-crossed lovers, meddling immortals, feigned identities, battles of wits, and dire warnings. These are the stuff of fairy tale, myth, and folklore that have drawn us in for centuries.
Fifteen bestselling and acclaimed authors reimagine the folklore and mythology of East and South Asia in short stories that are by turns enchanting, heartbreaking, romantic, and passionate.
Compiled by We Need Diverse Books's Ellen Oh and Elsie Chapman, the authors included in this exquisite collection are: Renee Ahdieh, Sona Charaipotra, Preeti Chhibber, Roshani Chokshi, Aliette de Bodard, Melissa de la Cruz, Julie Kagawa, Rahul Kanakia, Lori M. Lee, E. C. Myers, Cindy Pon, Aisha Saeed, Shveta Thakrar, and Alyssa Wong.
A mountain loses her heart. Two sisters transform into birds to escape captivity. A young man learns the true meaning of sacrifice. A young woman takes up her mother's mantle and leads the dead to their final resting place. From fantasy to science fiction to contemporary, from romance to tales of revenge, these stories will beguile readers from start to finish. For fans of Neil Gaiman's Unnatural Creatures and Ameriie's New York Times–bestselling Because You Love to Hate Me."
That's my TBR! If you're planning in participating in Asian readathon feel free to direct me to your TBR post in the comments, or tell me what book you're most excited to read throughout the month of May.
Also, I already released this list on my Twitter earlier in the month, so if you're interested in keeping up with my reading and being friends over there feel free to follow me, I generally follow back other reviewers from the book community! You can follow my progress with these books throughout the month as well on Goodreads.