I set a very ambitious goal for myself for the OWLs Magical Readathon, and to (attempt to) keep myself on track I'm going to be making little weekly check-in posts. I talked all about my TBR and what my goals were for the readathon here. Magical Readathon is hosted by Book Roast, who posted her video about OWLs Readathon here.
What I finished this week:
Arithmancy Revision: Monstress, Vol. 3: Haven by Marjorie Liu & Sana Takeda
Genre: Graphic Novel/Comic, Fantasy
Publisher: Image Comics
Published: September 2018

Length: 161 pages
My rating: ⭑⭑⭑⭑⭒
I re-read the first two volumes of this series at the end of March so I would be ready to jump into this volume in April. I really enjoyed this. It didn't bring out as many emotions in me as the first two volumes managed, but the art is no less stunning than the prior volumes and world continues to grow and feel richer and richer. I have a hard time putting into thoughts and words my feelings about comics and graphic novels— which I hope to eventually fix now that I have this blog— but yeah. This was really great, but just didn't get me to feel enough for me to give it the full 5 stars.
What I'm currently reading: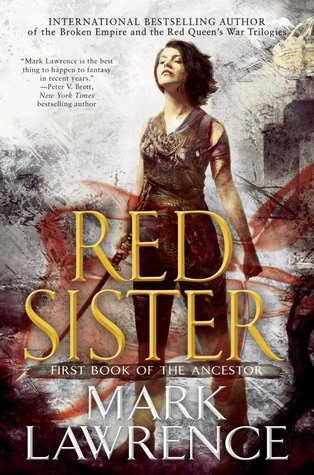 DADA Revision: Red Sister by Mark Lawrence
Genre: Fiction, Fantasy
Publisher: Ace
Published: April 2017
Length: 496 pages
My rating: TBD
I'm not going to lie, I was hoping to already have finished this book by now but I caught up in a serious case of "Help, I opened Sims 4 for the first time in 6 months and now I can't stop." So my free time really was eaten up by that. I'm hoping I can finish this by the end of tonight so I can read at least one more book before picking up the books I'll be reading for Tome Topple. There's something about this story that like… I'm interested and entertained, and part of me wants to know more and keep reading, but at the same time I don't feel entirely as enthralled by the world or plot as I thought I would be. I'm predicting that this will be a 3 star or 3.5 star rating when I finish it. I haven't been taking notes, so I'm not sure whether I'll attempt to write a review or not.
If you're participating in the OWLs Magical Readathon let me know what books you've read for it so far! Also, I occasionally post updates about what I'm reading on Twitter and keep track of everything on Goodreads, feel free to befriend me in either of those places.