Tome Topple is a two-week readathon hosted by Sam (Thoughts on Tomes) where the only rule is to read books over 500 pages. The announcement for this round of Tome Topple can be found here. This round is taking place from April 13 til April 26.
As some of you know if you read my OWLs Magical Readathon TBR, I've been planning on joining this round of Tome Topple basically since I knew it was happening and now here we are, and I'm super excited to finally be a part of it.
So my books were books I'd already picked out but I'm really happy that they fit into the challenge categories. There are two books that I definitely plan on getting to, and both of these fall into the adult category challenge. Which, shouldn't be a surprise since about 75%-90% of what I read is adult.
1. American Gods by Neil Gaiman
Genre: Fiction, Fantasy
Length: 541 pages
This is also the book over 500 pages that's been on my TBR the longest. I've been meaning to read it since July of 2017 (Side note: I can't believe that's already almost two years ago.)
The main reasons I want to read this are that 1. It's American Gods who hasn't read this or doesn't have it on their TBR? 2. Neil Gaiman quickly became one of my favorite authors after I read The Ocean at the End of the Lane and every other book I've read by him so far I've ended up rating at least 3-stars, and that's pretty good consider my average goodreads rating is a 3.4 as of writing this post. And 3. I watched season one of the show out of curiosity (and because of one of my friends pestering me to do so) and ended up loving everything about it so I have some really high expectations going into this one.
2. The Hero of Ages (Mistborn, #3) by Brandon Sanderson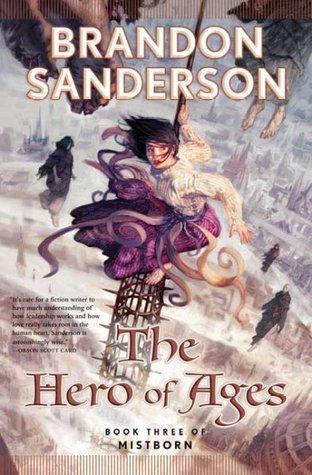 Genre: Fiction, Fantasy
Length: 572 pages
This fits into the read a tome that's part of a series challenge, as this is the final book in the original Mistborn trilogy. I was slightly disappointed by The Well of Ascension, so I'm not going to lie I'm going into this slightly jaded, but I am hopeful that it'll be my favorite of the series after what TWoA managed to lay out the foundation for.
After over a month since reading book two, I think there's finally enough distance for me to go into this book feeling refreshed and excited to get back into the world, without so much distance that I don't remember all the worldbuilding and technical details of the magic system.
That's the books! If you're participating in Tome Topple and want to buddy read either of these books, or if you just want to read one of them and use me as your excuse to do so, feel free to comment and let me know you're interested!
As always you can follow my progress with reading these and everything else on Goodreads, as well as general bookish updates and small thoughts on my Twitter.