March was a special reading month for me. Why, you ask? Well, I started this blog! One of the reasons I did start this blog is to push myself to read more things and to read outside my comfort zone, and I think even though I've only been at this for a couple weeks it's started to affect how I think about reading.
So far I've read 5 books in March, which doesn't seem like a lot but given the fact that I was in the middle of finding my new job doing interviews and all that— as well as having a life and other hobbies— I don't think it's that bad (though I do hope to read more next month!)
Books I Finished
The Woman in the Window by A.J. Finn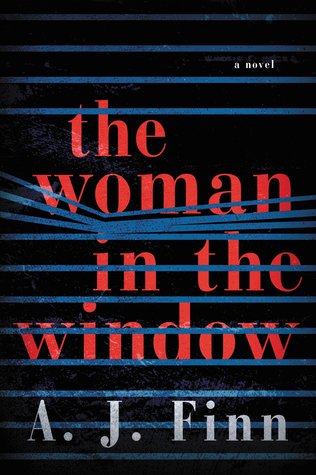 As I was looking over my review for this book I noticed something about the scandal surrounding this author… which I hadn't even known existed when I picked this up at the end of February.
I got this book as a gift months before that scandal was published in the New Yorker. And I hadn't even known about the exposé until I finished reading and reviewing this already. I've deleted my review from the blog for that reason, but it is still up on my Goodreads for now. I could make a whole post about just that but I won't, this is supposed to be about the books.
I'll keep this succinct: this was about a 3.5 star book for me. Nothing special as far as thrillers go. I was entertained but the mystery wasn't difficult to figure out at all and the writing style wasn't anything special at all.
The Well of Ascension by Brandon Sanderson
I read The Final Empire a long, long time ago and maybe that's why this book was a little bit disappointing for me. I gave The Well of Ascension 3 stars, which is a good rating, but definitely a drop from where I had put The Final Empire.
I like what this laid out for Book 3, but it also left me feeling a little tired of the world so I decided to take a break before heading into reading The Hero of Ages.
This book seems to be very divisive between the people I follow who read Sanderson— some say it's their least favorite in the trilogy, others say it's their favorite— and I didn't really have any strong feelings toward this book at all despite it being nearly 600 pages.
So, yeah, I'll eventually get around to reading The Hero of Ages, but I'm not sure I'll be reading any more Sanderson after I finish this trilogy.
The Grownup by Gillian Flynn
This book I listened to on audio. I enjoyed this one; it's exactly what I look for when I pick up Gillian Flynn. The main character is beggar turned handjob prostitute turned aura reader. I really liked how this story was told and the character's perspective was great.
Now that I've read this I'm all caught up on Gillian Flynn works, and I'm ready for her to release some more.
I still only gave this 3.0 stars because, while I liked it, I had issues with the ending and the parts everyone said were So Creepy really didn't creep me out, but did make me go, "Hmmm…." Maybe I'm just tougher to crack than most.
It's only under 70 pages though, so, there's only so much that can be fit into that.
Housekeeping by Marilynne Robinson
This is one that my mother recommended to me at least two years ago, possibly more, and I've been putting off reading it for so long even though I was fairly sure I'd like it— my mother and I tend to have somewhat similar tastes in books— and I'm glad I finally got around to reading it.
The language made the book tough to get through at times, which I talked about in my spoiler-free review, but it's rare that I read a book and find no criticisms of it. Despite my criticisms of it, this book just really made an impression on me and I ended up giving it 4 stars. I am considering reading Robinson's other works which I suspect her writing is improved in.
Motherhood by Sheila Heti
I really only have two good things to say about Motherhood. 1. The question of whether or not to become a mother is important and one worth pursuing in a book, and the conclusion that for some women the answer is no is a great one to see in literature. 2. It's short due to the format, and I managed to finish it in two sittings.
Other than that there was just so much I disliked about this book. It's technically fiction, but I'm not entirely sure it should even be considered fiction because there was no characters, really, (even the narrator didn't have many traits and the ones she did were infuriating.) It was more like a long thought exercise published under the guise of fiction. This was 2 stars.
Books I DNF'ed
Behold the Dreamers by Imbolo Mbue
So, I tried this one out on the recommendation of a friend and just couldn't do it. I talked about this in my little Goodreads Review on it but the writing style and characters were just… like you can tell this was a debut.
The commentary on immigration, and the fact that the author is from Limbe, Cameroon where her main characters are also from, did made this book something special. The speech inflections of the Cameroonian characters feels very authentic. But the characters themselves don't feel very much like characters at all, and I got to a point in the book where I told myself I'd give it at least one more chapter to decide whether to keep reading, and then I couldn't get through that chapter because the main couple were arguing and their dialogue implied a lot of emotion but I just didn't feel anything at all.
I wish this had maybe been a third or fourth book from this author because the themes and topics are very important and timely, but the writing and characterizations aren't quite there.
Books I'm Currently Reading
Blindness by José Saramago
This is a book I started out listening to thinking I might not finish it. Not because there was anything wrong with it but just because I wasn't quite sure that it was the book for me.
It took about 10% of the book for me to really get into it finally, but now that I'm past that point I'm fully invested in what's going to happen to all of these characters.
I'm hoping to finish this soon because I have a copy of other audiobooks I'm more excited for on hold on Overdrive that should be available to me soon and I don't want to feel like I have to finish this to get to those.
Monstress Vol 1.: Awakening by Marjorie Liu and Sana Takeda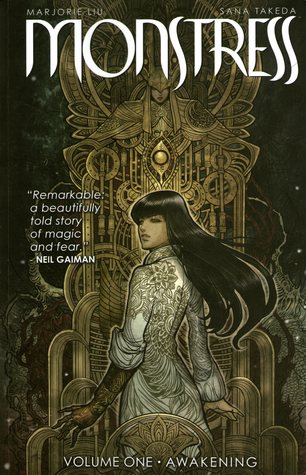 This should be a quick read for me as a graphic novel. It's also a re-read.
I'm not sure if I'll end up reviewing it this time around since I'm mainly re-reading this and the next volume just to refresh myself since I plan to read volume 3 soon.
I've been needing a break from all the regular types of books I've been reading lately and a graphic novel is a perfect way for me to sort of relax and reset myself for the plans I have for April's reading.
My April TBR will be up Sunday, and I plan on participating in the OWLs Magical Readathon throughout the month so those books are all going to be somehow related to that.