I have a love/hate relationship with series. I know that some series tend to be extremely popular, and I always finding myself wanting to really like a series, or continue it and stay up to date as new stuff comes out, but sometimes I simply lose interest, and other times I'm disappointed by the beginning of the series.
So, today, I'm going to talk about some series I've read one or more books for, but don't plan on continuing.
The Kingkiller Chronicle by Patrick Rothfuss
Can I interest any of you in some unpopular opinions? Yeah, I don't care if anyone reading this loves this book or thinks it's the best fantasy ever. Feel free to suck my metaphorical dick, and when you're done with that, eat my ass.
A while back I was really pushing myself to get back into my love of fantasy— which I loved more than any other genre when I was younger— and The Name of the Wind was at the top of everyone's recommendations lists for getting into adult fantasy… and I just… did not like it. Patrick Rothfuss' writing style is really good, but I'm going to refrain from calling it amazing because pieces of this book made me feel like he was a little too in love with his own writing ability and that ruined it for me. Like, you know when you meet someone who's really hot and finally talk to them and it's clear they know how good looking they are and that just ruins the illusion? That's kind of what Patrick Rothfuss' writing felt like to me.
Also, this book was just too long. I felt like there was way too much that sidetracked and meandered away from the main plot, and either Kvothe just loves talking about himself (gods, I feel bad for Chronicler) or Rothfuss just wrote for the sake of writing. I think both are equally likely.
The first couple hundred pages of the book I really did love it and everything that was happening, but then Kvothe got to the University and for me… everything was just downhill from there. It started to grate on me how much of a Mary Sue that Kvothe was, and anytime anything bad happened to him I wasn't worried at all because I knew he'd magically figure a way out of it. This book was like 250-ish pages of good shit and then like 450 pages of eye-rolling.
I don't know. It just wasn't really my cup of tea. And I have a lot of feelings about it. If I had been reviewing books at the time I read this, this one absolutely would have been a rant review from me.
The Cormoran Strike Series by Robert Galbraith (A.K.A. J. K. Rowling)
The Cuckoo's Calling was just such a huge disappointment for me. I never read Rowling's Casual Vacancy but when it struck my fancy to read something of hers that wasn't Harry Potter I decided to try this series.
Sidenote: I refuse to re-read any of the Harry Potter books, especially after reading this, because I know I'll only become entirely disillusioned with the franchise/series and JKR has done that enough for me with her mouth and her twitter account and whatever The Cursed Child was supposed to be so…
Anyway, there's clearly a reason this series didn't sell well before it was revealed that Robert Galbraith was a pen name for JKR. She used the same exact voice she wrote the Harry Potter series with for these books and it just… children's fantasy and adult mystery should not at all have the same tone.
I honestly don't remember anything about this book except the odd diction choices that JKR made— the choices that worked well in a world like Harry Potter, but clearly were not meant for adult books— and something about a murder maybe? I literally can't remember that's how little of an impression the actual content of the story had on me.
And, uh, can her editors please put a stop to her dialogue tags? It's okay to use "said" twice on the same page.
The Queen of the Tearling Series by Erika Johansen
I didn't even know this book was supposed to be set in a post-apocalyptic future until Harry Potter was mentioned in it. Maybe part of it was that I listened to it on audio and I do have a tendency to miss large chunks of books I listen to rather than read on the pages because my mind ends up wandering (but I think it also has a lot to do with the way the narrator executes it.)
The Queen and the Tearling wasn't a bad book, but there's not a lot I remember liking about it. But there's really only two things I remember disliking about it.
First, I'm just so damn tired of "She wasn't like other girls," main characters in YA. I get why they're popular, but they're not for me for a multitude of reasons but I'm not going to get into an examination of the implications of all that in this post because it's supposed to be short.
My main problem however with this book was it just required me to suspend my disbelief way too much. I get it, the idea of a monarchy and a return to medieval to 15th century-ish society in the far future is an original idea. But, sometimes… original ideas… are worse.
The Witchlands Series by Susan Dennard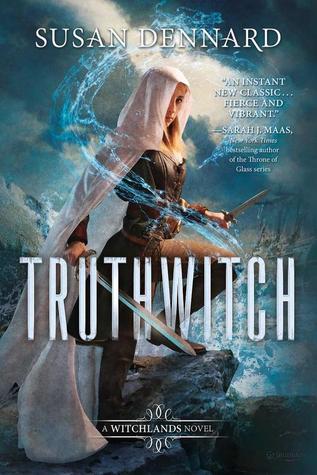 I actually enjoyed the first two of these books. They were about 3.0 stars for me. All the side characters that are part of the, I guess, main ensemble— Merik, Aeduan, and Iseult— are characters I ended up loving. In Windwitch I even ended up really liking Merik's sister, Viva.
I was kept entertained while reading, and after book one I felt the series had enough potential for me to give the second and potentially third book a try. However, at the time of writing this the third book has recently been released and I find myself… apathetic? I would maybe read it just for the characters above, but I have enough problems with the first two books that I think outweigh the good.
The world felt extremely underdeveloped while somehow also trying too hard. From what I think I can remember, it may be a case of being told we're in a fantasy world without really being shown that, but I'd have to go back and re-read to remember exactly and I really just don't have the time or interest to do so.
The main character, Safi… I have so many mixed feelings about her. I want to like her, but she suffers from Chosen One syndrome. She's Special™ because she's a truthwitch and apparently those are rare. And outside of that she feels more like a character type than an actual developed character. I just had a really difficult time connecting with her, and I didn't have that issue with any of the other point of view characters?
Maybe I'll eventually go back to this series, but for now it's a no from me.
Miss Peregrine's Home for Peculiar Children Series by Ransom Riggs
I was promised creepy, and what I got was a little bit quirky but mostly boring.
Let's back up a minute. This book was getting a lot of hype when the movie came out, and it's another one I listened to the audiobook for, but this time I don't think it's the narrator's execution that contributed to my lack of being able to pay attention. This is a book that promises that Things Happen… and then… nothing happens.
Don't get me wrong, I have no problem with character-driven fiction where not a lot of plot exists, but I need to know that that's what I'm getting myself into before I commit to a book.
The premise of this book is good and the execution clearly worked for a lot of people, but it just… wasn't quite there for me. I think my expectations were a little too high. I wanted to feel at least creeped out listening to this, and I didn't. There were a lot of promises for stuff that would be Important, and then like zero follow-through.
I will say though that this book does have a very, very strong point, and that is the setting. Easily the best part of the whole thing.
That's it for now. Are there any series you haven't continued because you're disappointed about them or have lost interest in them?