So, I've only recently taken it upon myself to try to become active in publishing my thoughts about books I read for the whole world to see. There's a lot of books that I have many thoughts about but that I'd need to re-read to speak about fully. I'm also wondering whether the fact that my reading has had a lot of changes in ebbs and flows whether I'd even have the same thoughts and feelings about these books the second time around.
There are definitely more than 5 books in this category, but I want to keep this post on the short side. I'm also not entirely sure when I'll actually get around to re-reading any of these since I'm— in general— not a huge re-reader unless it's something like a favorite book from childhood or a comic/graphic novel series I want to brush myself back up on.
Anyway, enough of that. Here's the books.
1. The Secret History by Donna Tartt
My rating on the first read: ⭑⭑⭑⭑⭑/5.0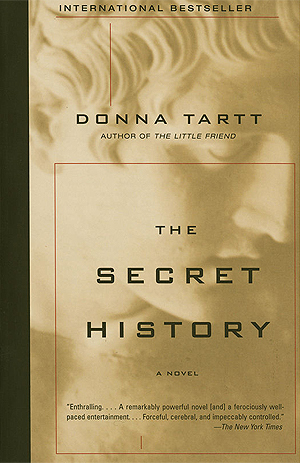 This book was one that a close friend recommended and I read it back in my first year of undergrad. My reading in college was extremely limited due to the nature of my degree, other hobbies, and social life, and one of the reasons I want to re-read this (and a lot of other books) was that I felt as though I really felt either like every book I read was either a 5.0 or a 1.0. Looking back at my read list I know that's not the case— most books I've rated either 3.0 or 4.0 stars— but this one I really just want to re-read because I do think my feelings about it now might be vastly different from when I first read it. I remember being totally enthralled in this book at the time I read it, but it was also one of the first books I had read in nearly a year. Later when I read Tartt's The Goldfinch, I had expected to be blown away but only gave the book a 3.0. I'm not sure whether it's a different in my tastes, or the book itself, but I do wonder whether I'd be as impressed by the admittedly pretentious style of Tartt's writing after having found other books I've loved since.
2. The Ocean at the End of the Lane by Neil Gaiman
My rating on the first read: ⭑⭑⭑⭑⭑/5.0
This is one that I really just remember falling completely in love with. I remember the descriptions of childhood, and the way that childhood feels when looking back on it as an adult who's started to forget what it's like to be a child. I think I read this within the same year I read the previous book. I strongly suspect this book would be at least 4.0— if not still a 5.0— if I do eventually re-read it, and since it's so short I don't see why I wouldn't take the time to do so. However, there are some other Gaiman books I really want to get to before rereading this (How have I not read American Gods still?) so it's really a matter of when.
3. Orphan Train by Christina Baker Kline
My rating on the first read: ⭑⭒⭒⭒⭒/5.0
I will fully admit that I'm high in sodium (more commonly known as salty) about a lot of things and this book was one of them. However that isn't why I want to re-read this book. The fact that this book managed to elicit such a strongly negative reaction from me honestly wants to make me go back and examine it. And since it's one of the shorter books that I vehemently disliked, it'd be a lot easier for me to slog my way through it and really try to examine and put into words the reasons that I thought this book was (dare I say it) trash. I remember having very strong feelings about one of the main characters in that her very existence was just so grating on my mind as I was reading it. The only problem with rereading this particular book is that I got rid of it at the first chance I could.
4. Monstress Vol. 1 & 2 by Marjorie Liu
My rating on the first read: ⭑⭑⭑⭑⭒/5.0
I'm counting these as a single book, because I'll definitely read them at the same time. I don't really have much to say about why I want to re-read these besides I think they're good and I finally decided to go ahead and buy Vol. 3 (lightyears late, I know) and I really need a refresher on the plot and the world. I don't remember much about the world or plot or characters, all that really stands out to me in my mind is the art style? Maybe on re-read I can think more about whether that's enough for a 4.0 star rating which, in my mind is an extremely good rating. I'm going to try to pay more attention to the story on re-read of these so that I can think about them more critically. I do know that the art style is absolutely breathtaking, and I remember really enjoy reading about the matriarchal fantastic society. I also vaguely remember liking the main character (whose name eludes me as of writing this, and that I'm too lazy to simply check on Goodreads.)
5. East by Edith Pattou
*Did not rate this, as I read it so long ago it's not even on my Goodreads.
I vividly remember this being one of my favorite books when I was younger. The fact that it was based on a fairytale I had never heard of at the time (East of the Sun and West of the Moon,) the writing style, and the romance gripped me thoroughly. I will admit that since reading this when I was so young (the book was released when I was 10, but I may have been 12 or 13 when I read it) I've sort of grown tired of most romance subplots in books I read. I just? Can't be bothered to care. So I am a little nervous to re-read this one, however, the author released a sequel to this at the end of 2018 (called West) and I've been dying to pick up a copy since before it was even out yet. I'm really hoping to get to re-reading this one this year. In summer I always do go through a period of feeling like it's way too damn hot and I need a break so I'll read a bunch of wintery stories. I'll probably get around to this (and a couple others I've been putting off) when that time comes.
And that's it! Are there any books you think you should re-read, or have been dying to? Do you re-read often or rarely? I'm curious.